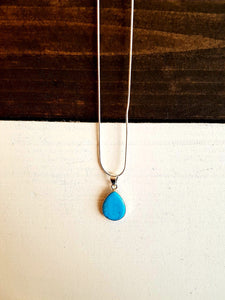 Turquoise Sterling Silver Necklace
Turquoise can help those who are suffering from depression or panic attacks, as it eliminates physical and mental exhaustion. Turquoise metaphysical properties are  related to wealth, money and financial abundance and it helps with self realization.
It strengthens and aligns all chakras, meridians, and subtle bodies. It actually elevates all chakras and can facilitate attunement between the physical level and the higher planes of existence. It can bring any and all energies to a higher level. It does, however, primarily stimulate the throat, heart, and naval chakras, bringing communication skills to emotional issues, to creativity, and to intuition, while allowing for the application of love in all issues.  Absorbing all negative forces, turquoise endows wisdom on those who wear it and increases prophetic powers. Turquoise is said to give access to the collective wisdom of humankind.