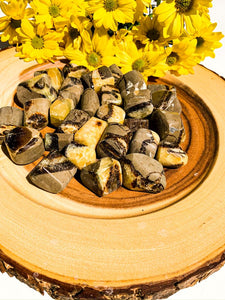 Septarian, also called Dragon Stone, can balance your body, mind and spirit.  This grounding stone helps you speak only in the positive, present tense as it takes your attention away from negativities in the past. It will support you going through drastic changes in youy life and help you adapt to your new surroundings.  Septarian teaches tolerance, patience, and emotional flexibility. It help us connect with the energy of Mother Earth and release those energies that no longer serve us.  It's uplifting energy will guide you on your journey to enlightenment.  Septarian is also beneficial in sound healing.  
If you speak in public, use Septarian to capture the audience's attention and let each person feel addressed individually.  The process becomes effortless communication at the profoundest level.  Septarian also makes you aware of the power of speech and its effect, not only on the listener but also within your own body.  What the psyche perceives, the body conceives. 
Meditating with Septarian can illuminate the underlying causes of disease. The crystal focuses the body's self-healing ability, detecting and dissolving energy blockages. It energetically re-balances the metabolism and reprograms cellular memory.