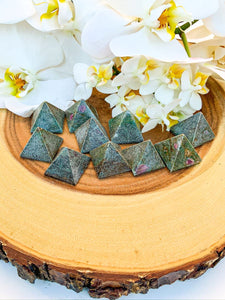 Ruby Kyanite Pyramid 1"
Ruby Kyanite is a combination of kyanite and the precious stone ruby and you get the metaphysical properties of both crystals.  It helps initiate the movement of Kundalini energies.  Ruby Kyanite emits light and positive energy and stimulates and balances the entire Chakra system bringing you into full energetic alignment and increase your supply of life force energies.  Combination of Ruby and Kyanite makes this stone a powerful manifestation tool.  It brings out inspiration and passion and reveals your true purpose and potential.  Ruby Kyanite's highly protective properties dispels negative energies and emits soothing vibrations.  Ruby is a powerful heart stone that helps you to see the true nature of love.  Kyanite is one the best attunement stones that brings tranquility and a calming effect to the whole being.
Since Ruby Kyanite doesn't hold on to negative energies but transmutes them to light, it doesn't need to be cleansed.  It can be used to cleanse other crystals around it.