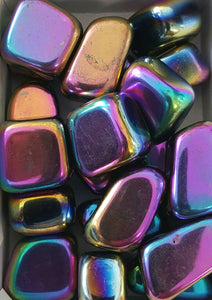 Each Stone is approximately 14 gr. in weight and 1" long.
Rainbow Hematite circulates joyous grounding energy through to the other chakras connecting this joyousness of physical life to all other aspects of being.  It dissolves low vibrations, increases energy, and keeps you free of stress.
Rainbow Hematite can help the body to heal broken bones, it has been used to treat disorders of the blood and the digestive system and it can be useful for treating anemia.