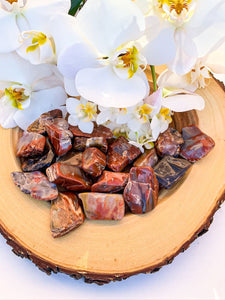 Petrified wood provides for strength in all areas of ones life and is also a stone for grounding.
It provides access to, and explicit information concerning, past-lives; this action is furthered via meditation with the stone.
It can be used to strengthen the back and to provide alignment to the skeletal structure of the body. It can aid in the treatment of hearing loss and incontinence, and to eliminate odors uncommon to ones environment.
It also provides support to one who is coming through the crisis period of a disease; it provides insight into "why" the suffering has occurred and into the lessons which can be learned and, hence, never repeated.
Petrified wood is also a "stone of transformation", assisting one to advance to ones highest chosen level to commence ascension to a higher aspect of the self, and to recognize that no action unnecessary.
Holding Petrified Wood keeps your feet firmly on the ground while you explore multi-dimensions of reality and transforms you into a soul being of light.