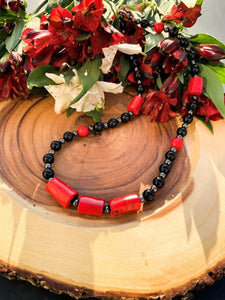 Handmade Obsidian, Coral and Hematite Necklace
Combination of 3 highly protective stones, this necklace will keep you safe, grounded and open to receiving love.
Red coral has uplifting energy that will leave you feeling rejuvenated and passionate about life.  It evokes passion, romance, and strength.  It encourages optimism romantic love.
Black Obsidian is a strong psychic protection stone.  It's a very powerful stone and it's mostly used for protection as it creates a shield against negative energy.  It protects one from anger,addictions, anxiety and fear.  Black Obsidian helps with facing up to one's true self.
Hematite's energy is earthy, and it is one of the best stones that you can use to harness the power of the element of earth to lend you strength and dispel negativity.  Hematite has the ability to absorb any toxic emotions holding you back.  Hematite is a very protective stone and is great to carry to help you stay grounded in many situations. Hematite is also good for working with the Root Chakra, helping to transform negative energies into a more positive vibration.