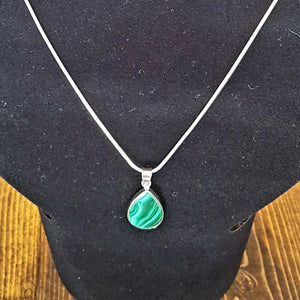 Malachite Sterling Silver Necklace
Malachite is a "stone of transformation", assisting one in changing situations, and providing for the transfer of sacred information leading to spiritual evolution.
It assists in clearing and activating all chakras and is quite helpful in stimulating the heart and throat chakras. It is an excellent stone for clarifying the emotions and for allowing for both the recognition and the release of negative experiences which one cannot recall; in the re-birthing situation, it provides for ease of disposal of opposing encounters.
Malachite is a power stone for intense inner transformation and soul catharsis. This crystal is merciless in exposing personality imperfections, outgrown patterns, blockages, and ties that must be dissolved before you can evolve spiritually. It requires you to take responsibility for your thoughts, feelings, and actions. This makes it an excellent karmic and soul cleanser, activating your soul's purpose.