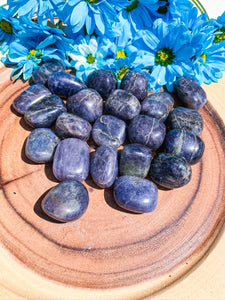 Iolite is a vision stone and can result in profound wisdom.  It helps connect with beings of the higher planes as its energy attracts angels and spirit guide.
Iolite brings joy and laughter into the home, so put it where light can shine on it. At work, iolite will bring inspired solutions to problems that may have eluded the most logical brain. Set iolite on a table when brainstorming and to help come up with alternatives to inefficient or unpopular working practices.
Iolite improves brain functioning and the efficiency of the metabolism. Iolite relives headaches and prevents insomnia.