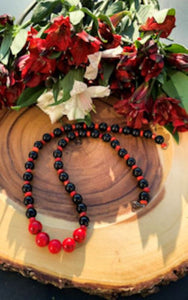 Handmade Coral, Black Onyx and Howlite Necklace

Wear this necklace for protection, passion and to calm daily stress effects.
Red coral has uplifting energy that will leave you feeling rejuvenated and passionate about life.  It evokes passion, romance, and strength.  It encourages optimism romantic love.
Black Onyx is an excellent protection stone against negative energy and psychic attack. Protects against black magic and blocks negative influences.  It absorbs and transforms negative energy.  Black Onyx releases negative emotions and helps ease stress.   It provides self discipline and can be used with addiction issues. 
Howlite provides support in releasing attachments to old emotional pain, and can ease stress and anxiety. It helps clear your mind and provides focus on your goals and ambitions. This calming stone teaches patience and helps to eliminate rage and stress.  It can aid in self-awareness, and is helpful in calming the mind and helps enhance memory. 
Red Coral 6mm beads, Black Onyx 10mm Beads, Howlite 12mm beads