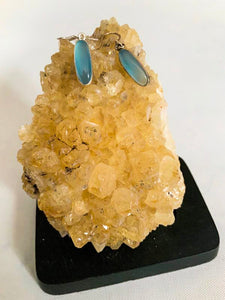 Product Size:  1.5"
Metal:  925 Solid Sterling Silver
Gemstone/Item:  Chalcedony
Gemstone Size:  6 x 18 mm
Gemstone Total Carat Weight (TCW):  9.0
Product Measurement:  3.7 cm including hook ( 1.5" )
Product Weight:  3.9 Grams
Chalcedony is useful for balancing the energy of the body, mind, emotions and spirit.
It is a stone to encourage "brotherhood" among all. It symbolizes benevolence and good will, the benevolence stemming from the nurturing energy within the stone. It alleviates hostilities, irritability, and melancholy. It enhances generosity, responsiveness, and receptivity.
It can be used to improve the assimilation of minerals and to help combat build-up of materials in the veins. It is said to cure varying forms of dementia, to rectify senility, and to increase mental stability.