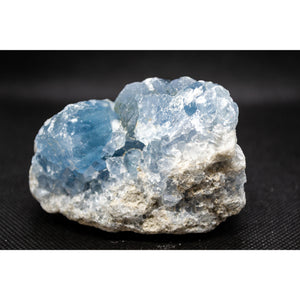 Celestite, also known as Celestine, is a high vibrational stone of peace and harmony and will assist you in finding balance and inner peace.  It helps you access higher chakras and open the eight chakra called soul star chakra which is the source of divine wisdom.  Celestite aids contact with angels and to discover your spirit guide.  It can relieve stress and anxiety and alleviate nervousness.  It will assist in recalling dreams.  Being in presence of this both calming and uplifting stone will bring you a feeling of calmness and serenity.  ​Celestite helps you be truly present in your body while still being connected to the spiritual world.  Keep a cluster of celestite in your home or work place to repel the toxicity and radiate tranquility.
Celestite is very fragile, and should be handled carefully.  Don't place in direct sunlight as the crystal colour will fade over time.
Clusters are approximately 3" long, 2" high and 2" deep.  Each piece is unique.