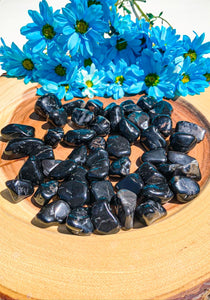 Black Onyx is an excellent protection stone against negative energy and psychic attack. Protects against black magic and blocks negative influences.  It absorbs and transforms negative energy.  Black Onyx releases negative emotions and helps ease stress.   It provides self discipline and can be used with addiction issues.  This stone centers energy and aligns it with a higher power.  Black Onyx is a powerful stone for grounding and can be used in mediation.
It helps with past life issues and to heal old wounds.  Onyx is known to bring energies of good fortune, abundance, and prosperity.
Onyx is believed to increase physical stamina and strengthen the kidneys, heart, eyes, and nerves. This stone is also known to help with childbirth.