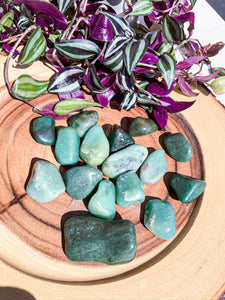 Aventurine disconnects your from anything that saps your power. It prevents inappropriate relationships from draining your heart energy and helps you live within the temple of you own heart.
Aventurine is a prosperity stone, keep one with to bring you money
A stone of joyous abundance, Aventurine assists you in recognizing and overcoming inner feelings of lack that may underlie poverty consciousness. This supportive stone increases your confidence, enhances leadership abilities, and helps you step into your true self.
Aventurine also reinforces ones decisiveness, amplifies ones leadership qualities, and is a willing participant in instinctive action. It facilitates balancing and alignment of the intellectual, emotional, physical, and auric bodies.
Aventurine has been used in the treatment of disorders of the lungs, heart, adrenal glands, and the muscular and urogenital systems.