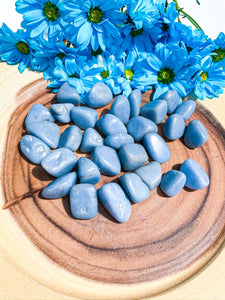 Angelite is both a sender and receiver; telepathic communication is enhanced, contact with other worldly beings is initiated, and communication with ones spirit totem is either introduced or the intensification of information is facilitated.
It helps one in spiritual journeys and in astral travel, allowing the experience of flight to be second-nature. It helps contact your angels and spirit guides.
It is a "stone for raising the state of conscious awareness" and for promoting clear and orderly communication.
It dispels anger, renews ones connection with universal knowledge, and initiates a parting of the impediments during innovative pursuits.