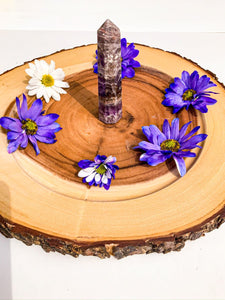 Amethyst Tower 4"
Amethyst blocks geopathic stress and electromagnetic frequencies.  Amethyst is a "stone of spirituality and contentment". It facilitates transmutation of lower energies into the higher frequencies of both the spiritual and ethereal levels. It is representative of the principles of complete metamorphosis.

Amethyst clears the aura and stabilizes and transmutes any dysfunctional energy located within ones body. Amethyst also bestows stability, strength, invigoration, and peace; the peace being the perfect peace which was present prior to birth.
Amethyst is a powerful and protective stone. It balances the energies of the intellectual, emotional, and physical bodies and provides clear connection between the Earth plane and the other worlds.

Amethyst opens your third eye and clarifies spiritual vision. By creating a safe sacred space for meditation and multidimensional exploration, it clears your mind and aids enlightenment.