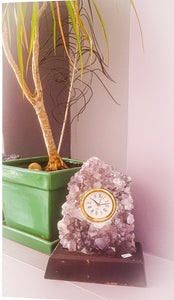 Amethyst Geode Clock on a wood stand

Amethyst has strong healing energies which can absorb and transform negative energy into love energy.  Amethyst enhances spiritual awareness and spiritual wisdom, promoting a higher state of consciousness.
As Amethyst geode or cluster is an excellent tool for space clearing and Earth healing, as it absorbs negativity and infuses an area with tranquility. Amethyst blocks geopathic stress and electromagnetic frequencies.