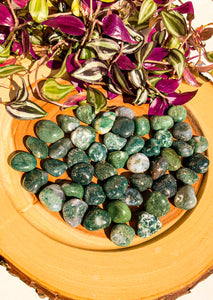 Green moss agate is a stone of prosperity and new beginnings. It attracts abundance and good health.  It leads one toward the characteristics of agree-ability, persuasiveness, strength in all endeavors, and efficacy in all pursuits. Green moss agate helps to improve ego and self-esteem, providing for emotional balancing and strengthening of the positive personality traits. It allows one to see the beauty within all that ones eyes touch.
Green moss agate can be used to provide for communication with and between the plant and mineral kingdoms' the information is often relative to methods for enhancing the stability of the planet. It has also been used in agricultural pursuits and has been successful in promoting the growth of new crops.
Green moss agate is a gradual cleanser that can be worn next to the skin or used daily, to encourage growth of healthy cells and tissue within the body, to relieve skin infections and to fight colds and flu. Green moss agate will protect your aura by filtering out impurities and negativity.