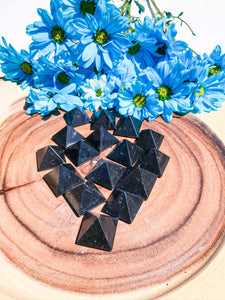 Black Obsidian Pyramid 1"
Black Obsidian is a strong psychic protection stone.  It's a very powerful stone and it's mostly used for protection as it creates a shield against negative energy.  It protects one from anger,addictions, anxiety and fear.  Black Obsidian helps with facing up to one's true self.


Let old sorrows go, happier times are ahead and there is a light at the end of the tunnel. You have a great deal of power you can use if you are not afraid to change the status quo.
Black obsidian is a natural pain reliever, it improves circulation and is good for the arteries and the stomach. An excellent anti-shock crystal, obsidian lessens the power of phobias. It eases pain and blockages in the lower body, especially the lower spine and feet. Apache tears lift depression and relieve dark, stagnant energies.
All obsidian protects you from negative vibes and hostility at work or home. It is especially good for kind-hearted people who are innocent of the ways of the world. Black obsidian is a traveller's stone especially if you travel by night.
Black obsidian dampens inner anger and frustration at others' incompetence or stubbornness and creates the impetus for change.